FUN! FUN! FUN! FUN! FUN! FUN! FUN!

Alphabet of Herbs Quilt
Scarecrow Quilt
Quilter's Basket

Amish Blocks

Pastel Drunkard's Path
Paper-pieced Halloween Wall Hanging

Posy Patch Quilt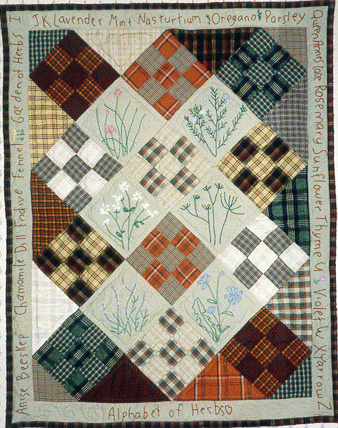 21" x 27-1/2"
The Alphabet of Herbs quilt (wall hanging) was created from Kindred Spirits, GATHERINGS.

---


38" x 49"

The Scarecrow quilt is a Red Wagon pattern from, DOWN THE ROAD A PIECE

The Scarecrow quilt was such 'fun' to make... as it progressed, my son, young at the time (this quilt was in the making for approx. 3 autumn seasons), named each and every scarecrow: Pete, John, Ned, Jack, Jake, Bud, Stan, Charlie, Hank, Otis, Will, & Chet. This quilt has a 'special' label (below).


This 'special' label was computer created then heat-set
on muslin at the local copy shop.




---

A QUILTER'S BASKET

A COOPERATIVE WORK OF LOVE...
I made two baskets and my sister made two basket liners!


UNFORTUNATELY MY SISTER'S BEAUTIFUL STITCHES DON'T SHOW, BUT YOU CAN GET THE IDEA.




---




AMISH BLOCKS

A blue-ribbon sampling of patchwork past and present
was assembled from museums and private collections and
displayed for "World of Quilts" show at Meadowbrook Hall
in Rochester, Michigan... Above RIGHT CROSS-IN-SQUARE block
was recreated from this Amish quilt - about 1900.

BACK TO PINCUSHIONS

---


Above left Pattern by: Linda Howell, The Stitch Connection (38" x 54")
Above right Foundation Paper Pieced Halloween Wall Hanging



---

© 1998-2003 craftzone. All rights reserved.